In Klaipeda – Science and Business dialogue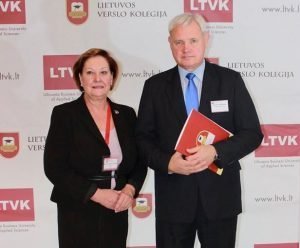 This weekend Lithuania Business University of Applied Sciences has organized XI International scientific-methodical and practical conference "Sustainable development of the region: economics, management and technology opportunities 2015."
In the eleventh year organized traditional conference, their papers have presented, useful discussions held and shared their experiences even 47 academic and business representatives from 7 countries: Lithuania, Ukraine, Poland, Hungary, Latvia, Georgia, Italy and Slovakia.
A welcome speech has been announced by Mayor of Klaipeda Vytautas Grubliauskas and Chamber of Commerce, Industry and Crafts, General Director Viktoras Krolis.
In the conference plenary session Klaipeda City Council Simon Gentvilas made a report on "Klaipeda with 200 000 inhabitants 2030. How to do this? "Klaipedos Nafta" LNG project manager Jonas Kimontas presented the LNG terminal as a regional value object prospects. Klaipeda Sciences and Technology Park, communications manager Andrius Sutnikas spoke how to link maritime education with the changing job market for a new generation of Baltic Sea experts. Klaipeda State Seaport Authority Marketing and Corporate Affairs Director Arturas Drungilas made a presentation on "Klaipeda port – the Catalyst of City's Strength and Stability".
In the conference sections of Management and Technology, Economics and regional sustainable development reports made more than thirty scientists. It is worth to mention researchers' S.A.Vinogradov et al. article on the factors in the HungarianSzentIstvánUniversity students' success in the labor market. Scientists in their study examines not only the traditional economic indicators, such as income, the probability of employment, and as far as the length of time until the graduates receive a job after graduation, but the analysis of other factors, such as the link between the current jobs and qualifications, willingness to change jobs and other conditions that can lead to success for young professionals in the job market. Another distinctive speech – Zsuzsanna Németh, D. et al., scientists who analyze the relationship between the region's sustainable development and energy consumption in Hungary and Lithuania.
A major part of conference material will be published in Lithuania Business University of Applied Sciences scientific journal "Management", which is part of EBSCO Publishing, Inc. Central & Eastern European Academic Source database, CEEOL, IndexCopernicus databases.
The conference partners became KlaipedaMunicipality and Klaipeda Science and TechnologyPark, Klaipeda Economic Development Agency KEPA, Klaipeda Chamber of Commerce, Industry and Crafts.
The conference aims – to promote scientific discussion of the regional economy, management and technology issues, to strengthen international cooperation between scientists and encourage the academic and business communities in the debate on sustainable development.
Moments form the conference in our Facebook profile abd Website,